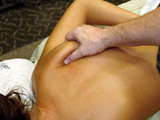 Do I have to remove my clothes?
– For Relaxation and Therapeutic massage remove your clothes and bra leaving underwear on.
– For back massage remove upper clothing and bra leaving pants or trousers on.
What should I wear?
– Loose, comfortable clothing
Will I be left covered in oil?
– Oil is used to allow the hands to work effectively on the skin and has therapeutic benefits for the skin. It is always rubbed off at the end of the treatment.
Who shouldn't have Massage Therapy?
– Massage therapy is not recommended for anyone with an infectious skin disease, a rash, or an unhealed wound. It should be avoided immediately after surgery, if you have phlebitis or varicose veins, areas of bleeding or tissue damage, bruises, and recent bone fractures. Cancer patients should have a doctor's referral before undertaking massage therapy.
Is massage a cure?
– As with any type of complementary medicine therapy, massage is not a cure for disease and you should continue to see your doctor regularly for check-ups, screenings, and treatment.
If the massage is painful to you, advise me so that I can adjust the treatment accordingly.
Nourishing Your Health at Newcastle Massage